What is IO-Link Safety?

IO-Link Safety is the new option for expanding machines and systems automated via IO-Link with functionally safe components and communication. In addition to the well-known Masters, there are now the FS-Masters and, for the Devices, the FS-Devices. The connection and transmission technologies of IO-Link can be used unchanged. This makes it easy to deploy safety functions. IO-Link Safety will also be standardized worldwide as IEC 61139-2.


Here is how the extension in automation architecture can look like: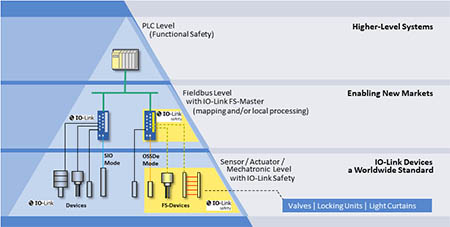 Example of "system architecture with safety components"


The advantages of IO-Link naturally also apply without restriction to the safety extension. Further more there are also other "highlights" (qualities).

Universal Safety
An FS-Master builds on the standard IO-Link Master and offers additional safety communications, i.e.
Communicating FS-Devices with all three transmission rates also fit to an FS-Master,
Conventional switching safety sensors with OSSD fit on an FS-Master,
Any non-safe IO-Link Devices can also be connected to an FS-Master.
An FS-Master can be integrated in safety field buses (like FSCPs according to IEC 61784-3-x


FS-Devices can now be safety sensors or actuators, a combination of these or mechatronics with safety
Only one type of FS-Device required for the global market instead of different safety devices for several safety buses
IO-Link Safety is independent from the upper level systems


IO-Link Safety meets the requirements of IEC 61784-3 and can be used in SIL3 / PLe applications
IO-Link Safety becomes an international standard as IEC 61139-2
IO-Link is universal ... it has worldwide distribution and acceptance
Smart Safety
FS-Devices can be parameterized with IO-Link tools (IODD) and thus, for example, the variety of types can be reduced
IO-Link Safety meets the growing demand for cost-effective, measuring safety sensors extremely
FS-Devices can now be extremely miniaturized
Even with safety, the simple device replacement (FS-Device) is possible without a tool
Detection of incorrect connections is possible (Port detection)
IO-Link Safety offers safety sensors a transition from switching mode (OSSD) to safe communication, i.e.
FS-Devices can be parameterized with IO-Link tools for use on safe digital inputs of safety field buses (OSSD)
IO-Link Safety is smart ... it safely thinks for itself
Easy Safety
IO-Link Safety is as lean as IO-Link
Power supply comes within the same cable
Device descriptions of FS-Devices (IODD) together with a "Dedicated Tool" are available directly in the IODD-Finder Server (see www.io-link.com)
Planning of safety functions (e.g. determination of reaction times) simplified through parameter specifications in the IODD
IO-Link Safety has standardized the switching operation (OSSDe) and thus greatly simplifies the use of switching safety devices
IO-Link Safety is easy ... and ... makes the customer friendly