IO-Link Members Assembly
The first digital members assembly of the IO-Link community took place on November 27, 2020. The date "Friday after the SPS" was originally chosen to give international guests the opportunity to combine the visit of the SPS with the members meeting. But here too, Corona got the planning a bit out of hand. Nevertheless, with or perhaps because of the format of a digital members meeting, a high level of international participation could be achieved. About 45% of the 170 registered participants are not resident in Germany.

The main focus of the IO-Link Members Meeting is on presenting trends and technical developments in the field of IO-Link. Prof. Fleischer (KIT Karlsruhe, wbk Institute of Production Science) kicked off the event with his keynote speech "The path to autonomous production". The presentations on current topics as IO-Link over SPE or IO-Link Wireless were also eagerly awaited.

Best practice applications and user reports are always of particular interest to the participants. At this year's members meetings, three current applications or approaches to solutions were on the agenda, which also met with great interest and queries in the chat.

The date for the next members assembly has not yet been fixed. We will inform you in time.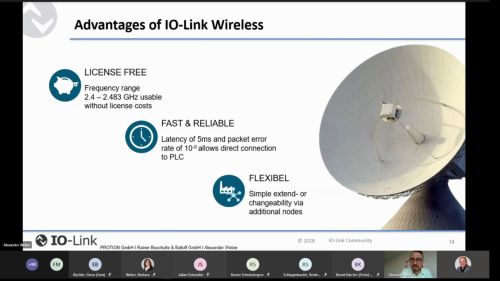 [published on 09.12.2020]