First Accredited IO-Link Test Lab in China
At the end of March 2023, China-based Hefei Onsoon Intelligent Electronics Co., Ltd was successfully accredited as a new IO-Link Test Lab. Onsoon is thus the first Test Center in Asia and expands the number of global test labs to three. IO-Link Test Labs are testing the interoperability of products and thus contribute to the high quality of the IO-Link standard.

The IO-Link Community has established Competence Centers and Test Labs to support the IO-Link technology. While the Competence Centers advise users, manufacturers and potential new members on organizational and technological issues, the Test Labs perform conformance testing of IO-Link devices and IO-Link masters. Members are allowed to perform IO-Link testing themselves and to cre-ate a manufacturer declaration based on this testing. Non-members, on the other hand, must have the test performed by an accredited Test Lab. However, smaller companies, in particular, are happy to benefit from the services of the Test Centers even as members. In this way, the IO-Link Test Cen-ters contribute to the high quality of IO-Link products.

With the successful accreditation, Onsoon is the first Test Lab outside Germany. For the audit, three specialists from China traveled to Germany to the IO-Link Community office in Karlsruhe. The audit was carried out by the two existing test labs TEConcept (represented by Dr.-Ing. Franz-Otto Witte) and TMG TE (represented by Dipl.-Ing. Klaus-Peter Willems) as well as the head of the IO-Link "Quali-ty" working group Frank Moritz (Sick).

In a theoretical part, it was first reviewed how conformance testing of both IO-Link devices and IO-Link masters is implemented in practice. Onsoon has the test systems from TEConcept and TMG TE that have been approved by the IO-Link community. Using an IO-Link device and an IO-Link master prepared specifically for this audit, Onsoon has demonstrated that they can carry out the tests properly. The accreditation as a Test Center was preceded by the accreditation as a Competence Center a year ago. Just like back then, Onsoon's specialists were well prepared and were able to carry out all tasks smoothly.

With the rapid growth and now more than 80 members in China, the IO-Link community expects a large number of tests and the even faster spread of IO-Link in China. The local support enables Chi-nese manufacturers to bring their devices to the market faster and easier.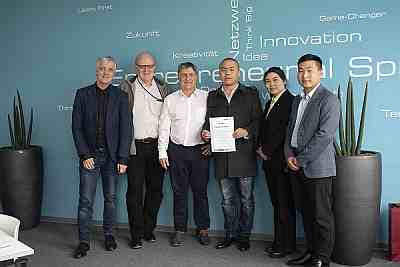 With Onsoon, the IO-Link community has the first IO-Link Test Center in Asia – here, the certificate is handed over to the three specialists from China (from left to right). Franz-Otto Witte, Klaus-Peter Willems, Frank Moritz, Li Gang , Gu Jiejie, Kong Lingshuang).
[published on 13.04.2023]