New Steering Committee elected at the IO-Link Members' Assembly
Several companies had already expressed new interest in working together on the Steering Committee be-forehand. The Steering Committee directs the technological development of IO-Link and consists of the head of the Steering Committee and the heads of the quality, technology, marketing, profiles and integration working groups, in addition to the elected members. The Steering Committee now in-cludes 18 active companies heavily involved in the further development of IO-Link. The complete list of all names and companies is available on the IO-Link website. The Member's Assembly was moder-ated by Joachim Uffelmann (ifm), who had been appointed as the new head of the Steering Commit-tee in March 2022.

Another highlight on the agenda were two application reports from end users. Attending for the second time, Horst Klesse again contributed to making the IO-Link Member's Assembly a success. Back in 2017, he had demonstrated the use of IO-Link at his company's bottling plants for the first time. This time around, he impressively demonstrated what elopak has since been working on with regard to IO-Link, as well as the challenges tackled and solved by the IO-Link Community for users.

Dennis Lenkering demonstrated the use of IO-Link at the Lenkering Montage und Zerspannung-stechnik GmbH company in Steinfeld, Germany no less impressively and explained the background, advantages and experience as a system integrator of IO-Link with various use cases, such as gluing automation.
At the end of May, the IO-Link Community welcomed TÜV Süd as its 400th member. It was a special pleasure for that also Günter Greil of TÜV Süd could be welcomed on site in Frankfurt. For many years, the company has been engaged with IO-Link technology and is a leading driver of IO-Link Safe-ty. It would also like to support this technology as a test lab for IO-Link Safety in the future.


To inform all participants about the latest IO-Link goings-on, the working group heads reported on the status and activities of their working groups.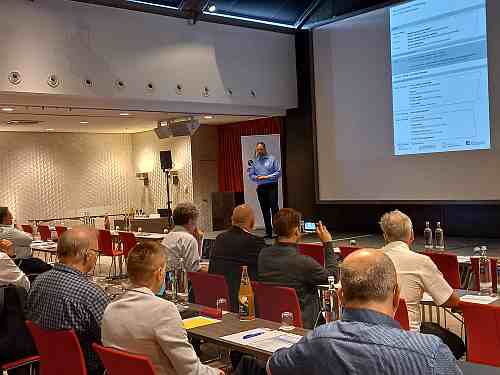 New head of the IO-Link Steering Committee Joachim Uffelmann opened the 2022 IO-Link Member's Assembly and announced the election of the Steering Committee.


[published on 19.07.2022]